The international LeNSes conference
PARTICIPATE!
Two weeks left to register – seats going fast!
Free registration on Eventbrite, for this international conference on Sustainable Renewable Energy, and the dilemma of Sustainability in Design, Development and Research in education and industry practice.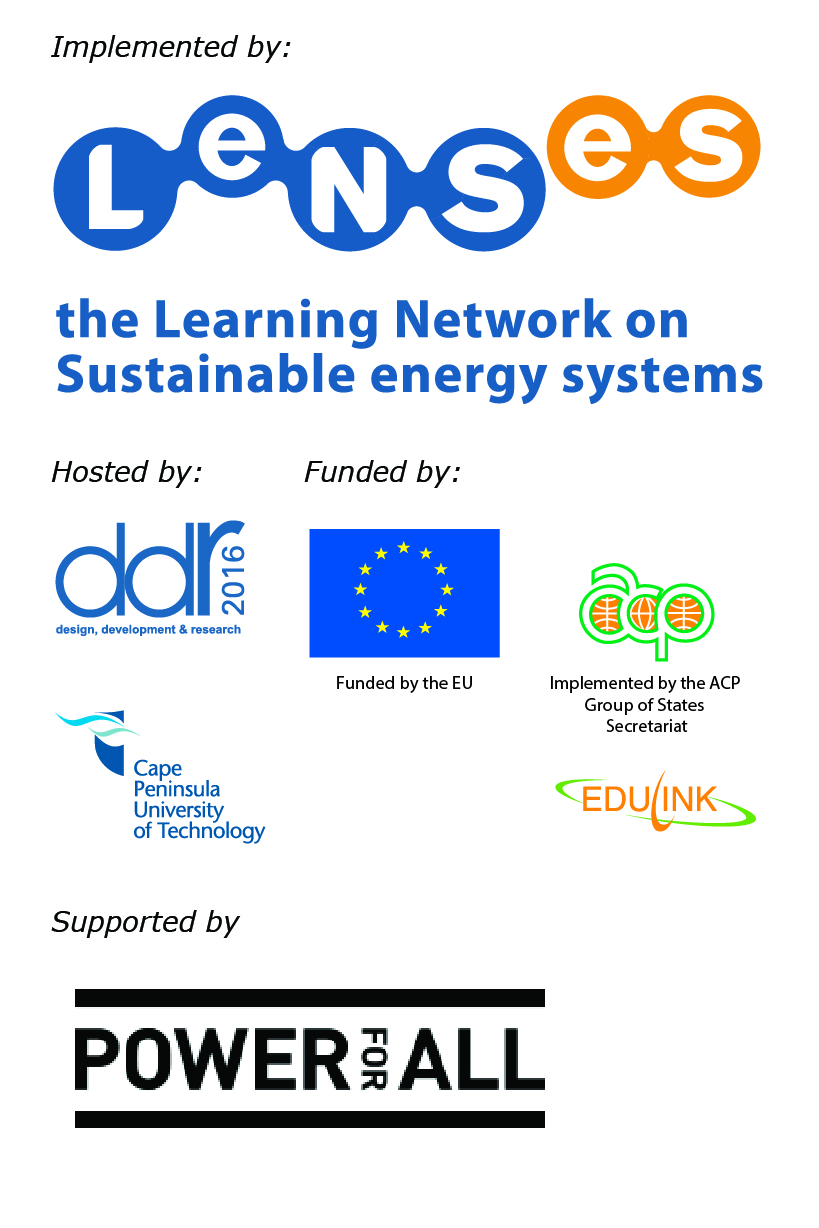 The Sustainable Energy For All by Design Conference 2016 is a trans disciplinary platform for sharing latest knowledge and experience in sustainable energy for all from system development and dissemination, to the design, research, education and practice perspectives. The Cape Peninsula University of Technology, an active member of the LeNSes project, is honoured to host this important event as the conclusive event of the  project, managed by Politecnico di Milano, and funded by the EU under the Edulink II program. The 3 year project aims at the development and diffusion of capacity and curricula on System Design for Sustainable Energy for All. The partner Universities' rigorous approach to Sustainable Renewable Energy, and Design, Development and Research is made manifest in its collaboration with the LeNSes Sustainable Energy For All by Design Conference in 2016.    
---
Welcome to the Mother City – a successful World Design Capital!
Voted one of the most beautiful cities, Cape Town, is nestled at the tip of Africa below one of the world's new 7 'Wonders of Nature', Table Mountain and splashed by oceans on either side. This cosmopolitan city is three times larger than New York and is home to approximately 3.6 million people. It has a first class infrastructure and is home to the popular V&A Waterfront. Some of its own ground-breaking and awarding winning designs and systems developed for the World Design Capital year were the MyCiti bus (a rapid transport system), the Green Point Urban Park & Biodiversity Garden and the Buitengracht Pedestrian Bridge, all of which have transform the lives of all Capetonians.
With the central theme behind the city's successful bid, 'Live Design. Transform Life, Cape Town was able to showcase over 460 Transformative Design projects throughout the year in 2014, and the legacy continues into the future. The focus of this transformation, driven by design, is on efficiency and resilience related to food, energy, water and the natural environment, design that adds value to the economy through innovation, finance, systems and social entrepreneurship. Design in Cape Town has transformed culture through fashion, arts, culture, sports and recreation, has elevated communication, transportation and social cohesion, and shared knowledge through education and skills development. Design has  improved health, wellness, housing and urban development and we look forward to introducing or welcoming you back to this exciting place of change.
---
The conference is organised by the LeNSes partners:
CAPE PENINSULA UNIVERSITY OF TECHNOLOGY, Cape Town, South Africa
Andrea Broom, Mugendi M' Rithaa
POLITECNICO DI MILANO, Design Department, Italy
Carlo Vezzoli, Emanuela Delfino, Elisa Bacchetti, Fiammetta Costa
BRUNEL UNIVERSITY LONDON, College of Engineering, Design & Physical Sciences, London, United Kingdom
Fabrizio Ceschin, Silvia Emili, David Harrison, Ian de Vere
DELFT UNIVERSITY OF TECHNOLOGY, Industrial Design Engineering, Delft, The Netherlands
Jan Carel Diehl, Jairo da Costa
UNIVERSITY OF NAIROBI, Nairobi, Kenya
Lilac Osanjo 
UNIVERSITY OF BOTSWANA, Gaborone, Botswana
Richie Moalosi, Yaone Rapitsenyane, Paulson Letsholo
MAKERERE UNIVERSITY, Kampala, Uganda
Venny Nakazibwe, Mary Suzan Abbo, Mackay Okure